Frank & Sons Commander Tournament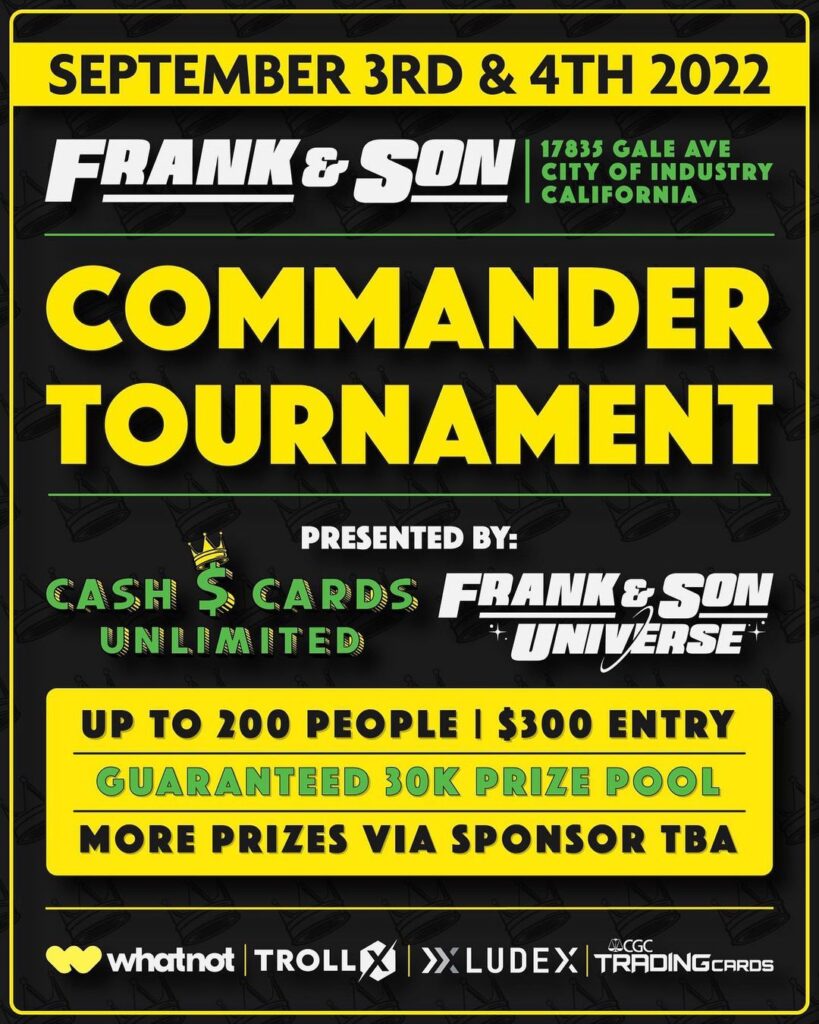 Frank & Sons Commander Tournament
CITY OF INDUSTRY, CA – Saturday and Sunday, September 3-4, 2022
Cash Cards Unlimited and Frank and Son Commander Tournament will be held at Frank and Son located at 17835 Gale Ave in the City of Industry, CA 91748.
Entry fee is $300 per person and will be limited to the first 200 participants. All participants will receive a goodie bag that contains 2 MTG Streets of New Capenna Collector Packs along with other items from sponsors WhatNot, Troll and Toad, LUDEX and more. The 3 top finalists will share a $30,000 prize pool of MTG Products based on their final position.
For tickets and more information, visit cashcardsunlimited.com.

About LUDEX: Using LUDEX's advanced AI-scanning technology, there's never been a faster, easier way to evaluate and identify every card in your collection. Take a picture of the card you want to identify. We'll handle the rest. Manage your collection with your LUDEX portfolio and organize every card in your collection, right in the palm of your hand. Available on iOS and Android. www.ludex.com
Media Contact:
Max Wastler
Vice President of Brand at LUDEX
Find us on Social Media:
IG: @ludexcardshow + @therealludex
FB: LUDEX + LUDEX Card Show
Tw: @therealludex + Tiktok: @teamludex