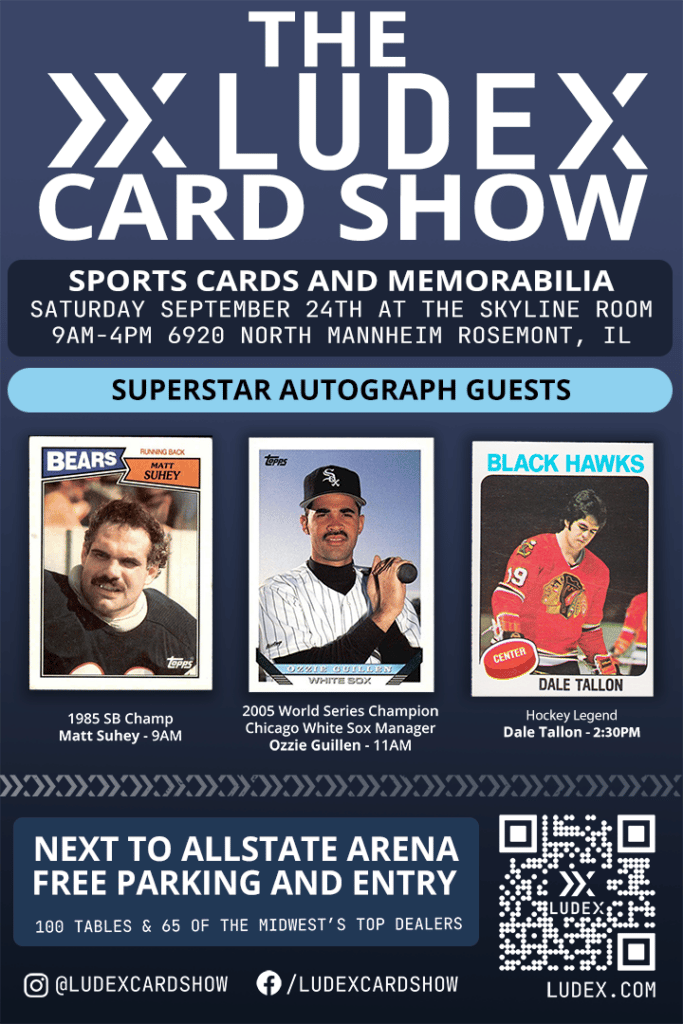 The LUDEX Card Show Returns to Rosemont
CHICAGO, IL – September 24, 2022 – Saturday from 9AM to 4PM, The LUDEX Card Show will feature over 100 dealer tables, free parking and admission at the Skyline Room, 6920 North Mannheim Rosemont, IL, located next door to the AllState Arena.
The LUDEX Card Show is back at Rosemont's Skyline Room on September 24th. Attended by more than 1,000 sports card enthusiasts, this month's show will include autograph appearances by the manager of the 2005 World Series-winning manager, the White Sox Ozzie Guillen, 1985 Super Bowl Champion Matt Suhey and Blackhawks Legend Dale Tallon.
About LUDEX: Using LUDEX's advanced AI-scanning technology, there's never been a faster, easier way to evaluate and identify every card in your collection. Take a picture of the card you want to identify, we'll handle the rest. Manage your collection with your LUDEX portfolio and organize every card in your collection right in the palm of your hand. Available on iOS and Android. www.ludex.com

Media Contact:
Max Wastler
Vice President of Brand at LUDEX
Find us on Social Media:
IG: @ludexcardshow + @therealludex
FB: LUDEX + LUDEX Card Show
Tw: @therealludex + Tiktok: @teamludex