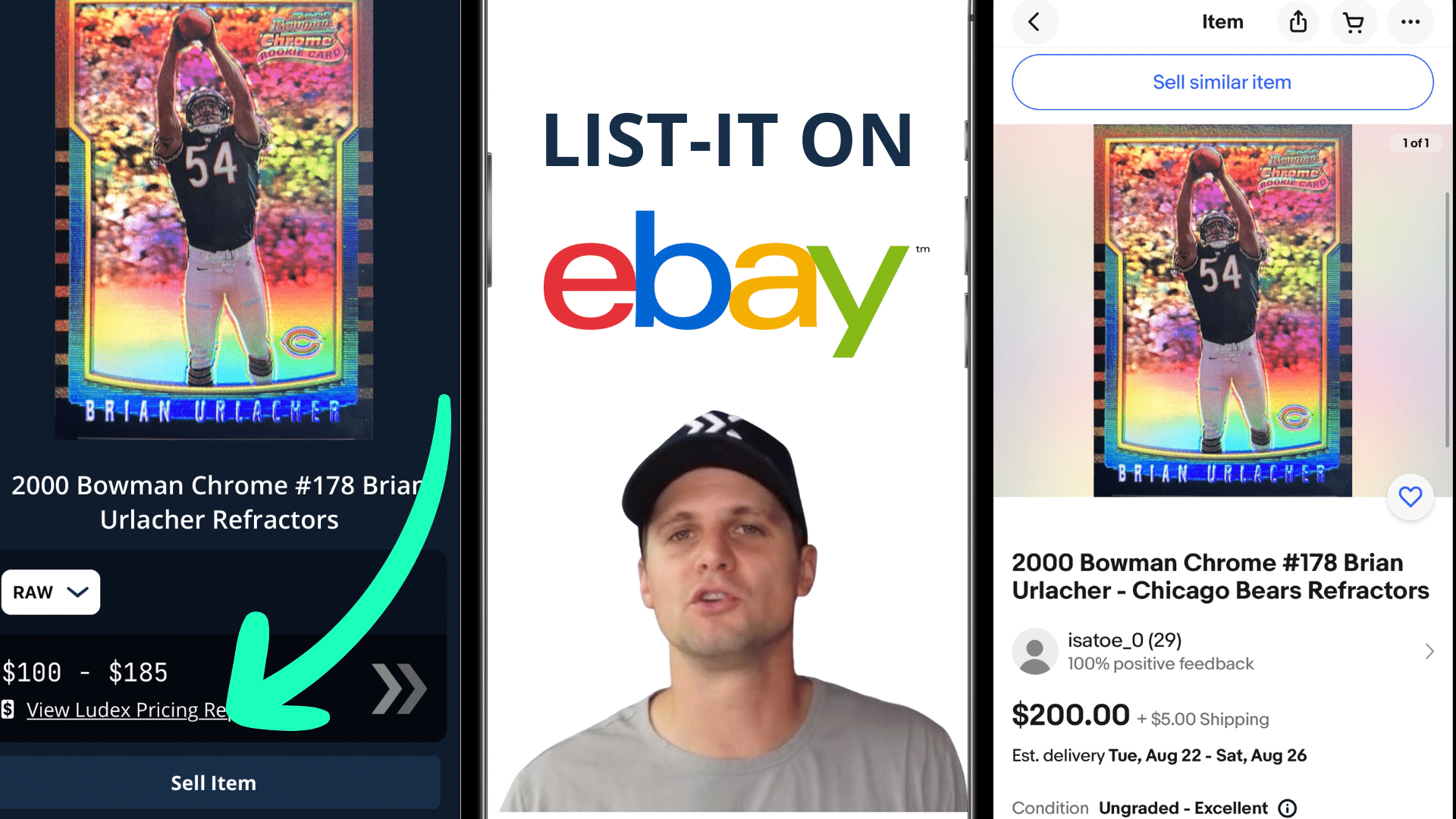 If you are reading this blog, then you probably have seen, heard, or just need more information on our newest List it with Ludex feature! This feature allows you to list cards on eBay in seconds, there truly is not an easier or quicker way to get your cards listed! With that being said, this blog will feature a step-by-step "life cycle" on how to integrate your eBay to your Ludex account, list your cards on eBay, and keep track of what you have listed/what you have sold. Let's get started! 
The very first thing you need to do is make sure you have a seller's account on eBay!
If you do not, you will need to set one up, which is very easy. eBay will just need to confirm your identity, bank account information, and other information so they can set you up as an official eBay seller.
Once you have either set up an eBay seller account or you have confirmed you have one, the next step will be to make sure you have updated the Ludex app. You can do this in the App Store or the Google Play Store. After the app is updated you will need to:
Go to the "More Tab" on the bottom right of the Ludex app
Then Click Integrations
Sign into your eBay account
eBay will notify you via email, that a "new device is using your account"
Just to double-check if the integration is complete, you can click back into the "integration tab" and it will say you are successfully connected to eBay!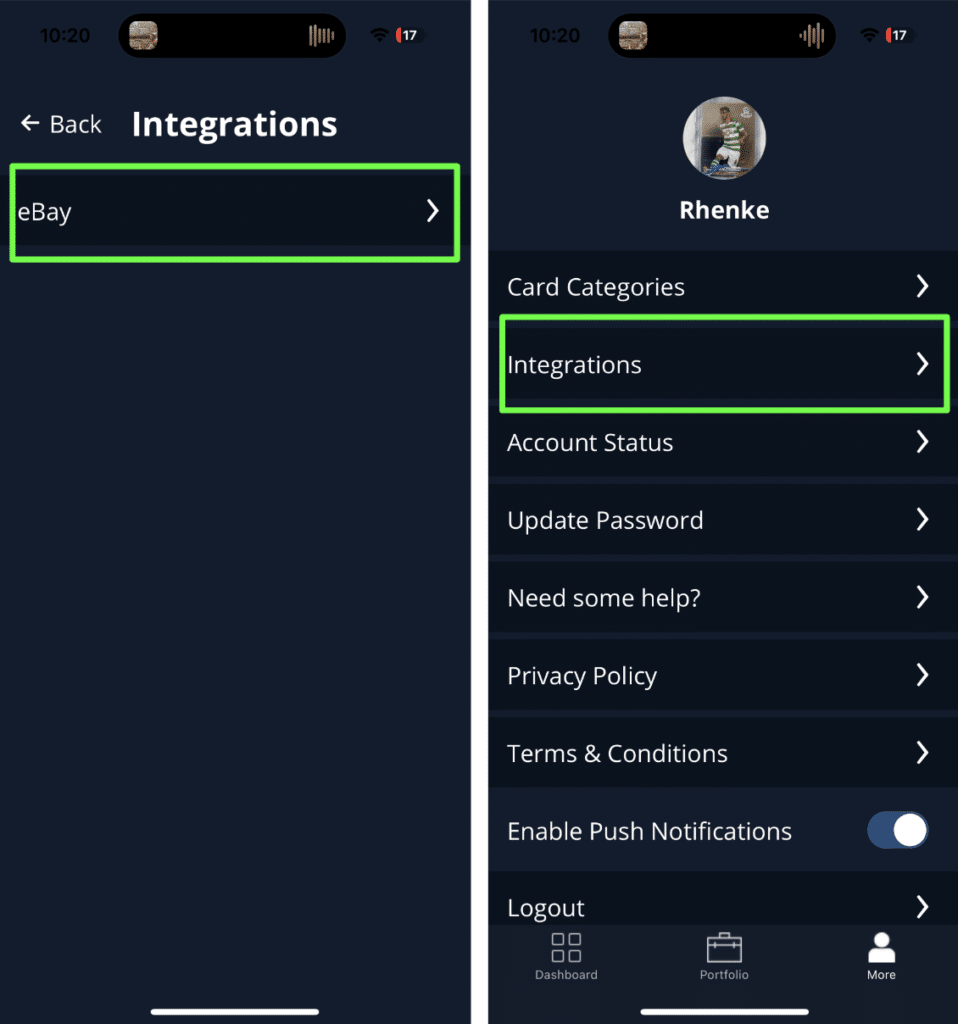 *Quick Note: If you ever want to disconnect your eBay account from your Ludex account you can do that by clicking the "Disconnect eBay Account" link in the Integrations Tab.
List Your Cards on eBay Using Ludex
Now that you have successfully connected your eBay account to your Ludex account it is time to start listing cards! First and foremost, the card you want to list HAS TO BE in your Ludex portfolio! So make sure you are adding your cards to your portfolio after you scan them. The rest is simple!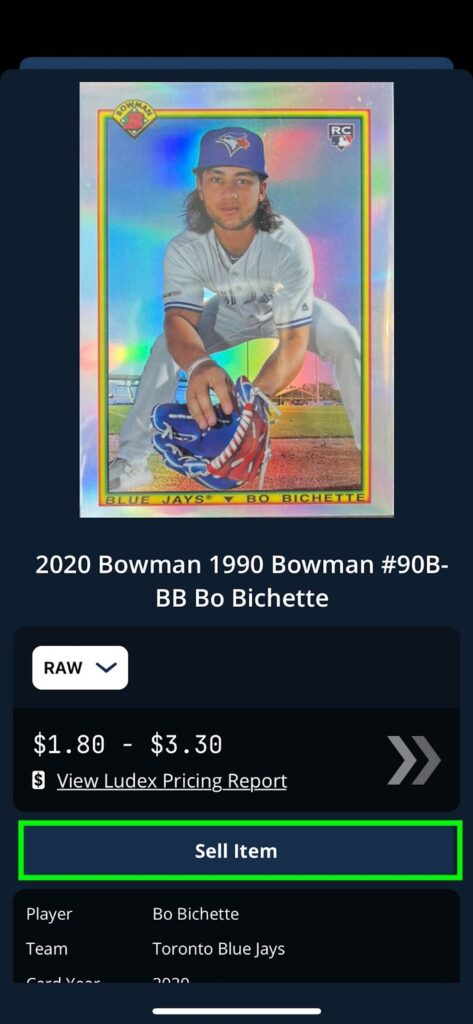 On the card you want to list, click the "Sell Item" below the photo and card information
You will be directed to the Listing Landing Page, where all the card information is pre-populated for you (remember you can edit it as much as you want)
Make sure you choose Card Condition (this is a new requirement from eBay)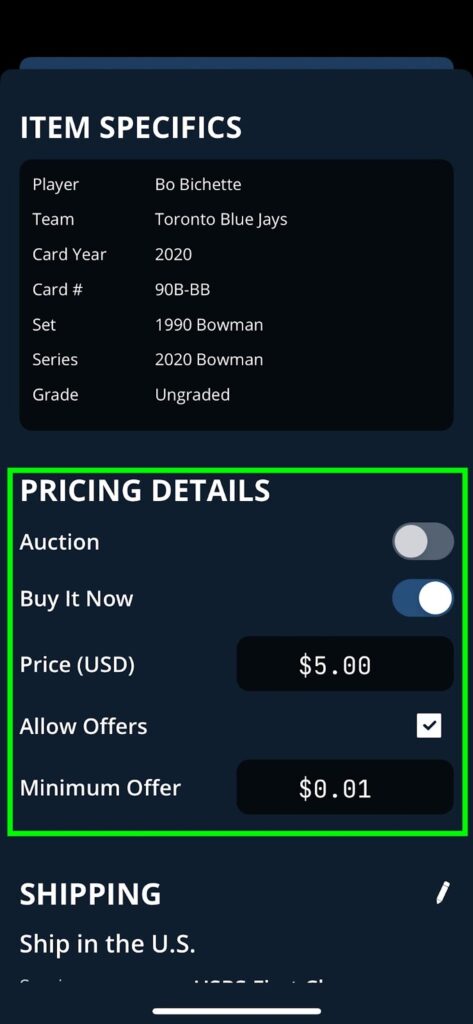 Choose the Selling Format (Buy It Now or Auction)

Auction: Choose the starting bid, and auction duration, and select if you want a reserve price or not.
Buy It Now: Choose the selling price, if you will allow offers and the minimum offer price

Shipping Preferences: There are various different preferences, so make sure you select the one that best fits your needs
Shipping Location: Zip Code or specific city/town you are sending it from
Click Review to double-check that everything looks good
Publish on eBay: A disclaimer will pop up, then you will be redirected to eBay to check out your listing!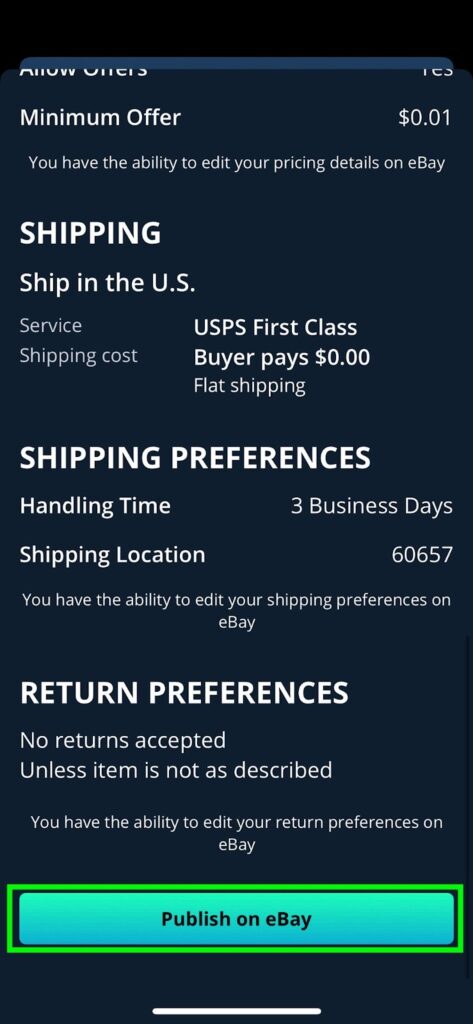 *Note: You will get a confirmation email from eBay reminding you that your card has been listed
Once Published:
Now that your card is listed on eBay you can:
Go back to the card profile and you will notice it will say "Published" under the card name
You can review your listing or remove your listing straight from the card profile page as well, just click on each respective button
eBay will notify you, per usual, if you have any offers or if your card has been sold!
Once sold, you can mark as sold, by clicking the link under all the card data

You can mark where it was sold from and how much it was sold for!
Draft a Listing:
Just in case you are not ready to sell or do not have time to list a card, you can save it as a draft on your Ludex Profile:
Follow the same steps as if you're listing a card (Click Sell Item)
On the bottom of the Listing Landing Page, you will see the Save Draft Button
Under the card name instead of saying Published it will say Draft
Edit the Draft Listing anytime you would like by clicking the Edit Draft Listing button
You can also discard the draft completely at the bottom of the Listing Landing Page
There was a lot of information that we covered in this blog, if you are more of a visual learner please watch the short YouTube video we have posted to the blog as well. The process of listing cards on eBay is super easy and it will only take you SECONDS to complete. Remember that this feature is live for ALL PAYING MEMBERS of Ludex on 9/01/23 and it will be available for all free Ludex members soon! With the Standard membership you will be able to list up to 50 cards on eBay per month and with a free membership you will only get 5 listings per month. GO LIST YOUR CARDS!
---
Want more Ludex content?
Sign up for the LUDEX Newsletter to recieve the lastest posts right to your inbox!