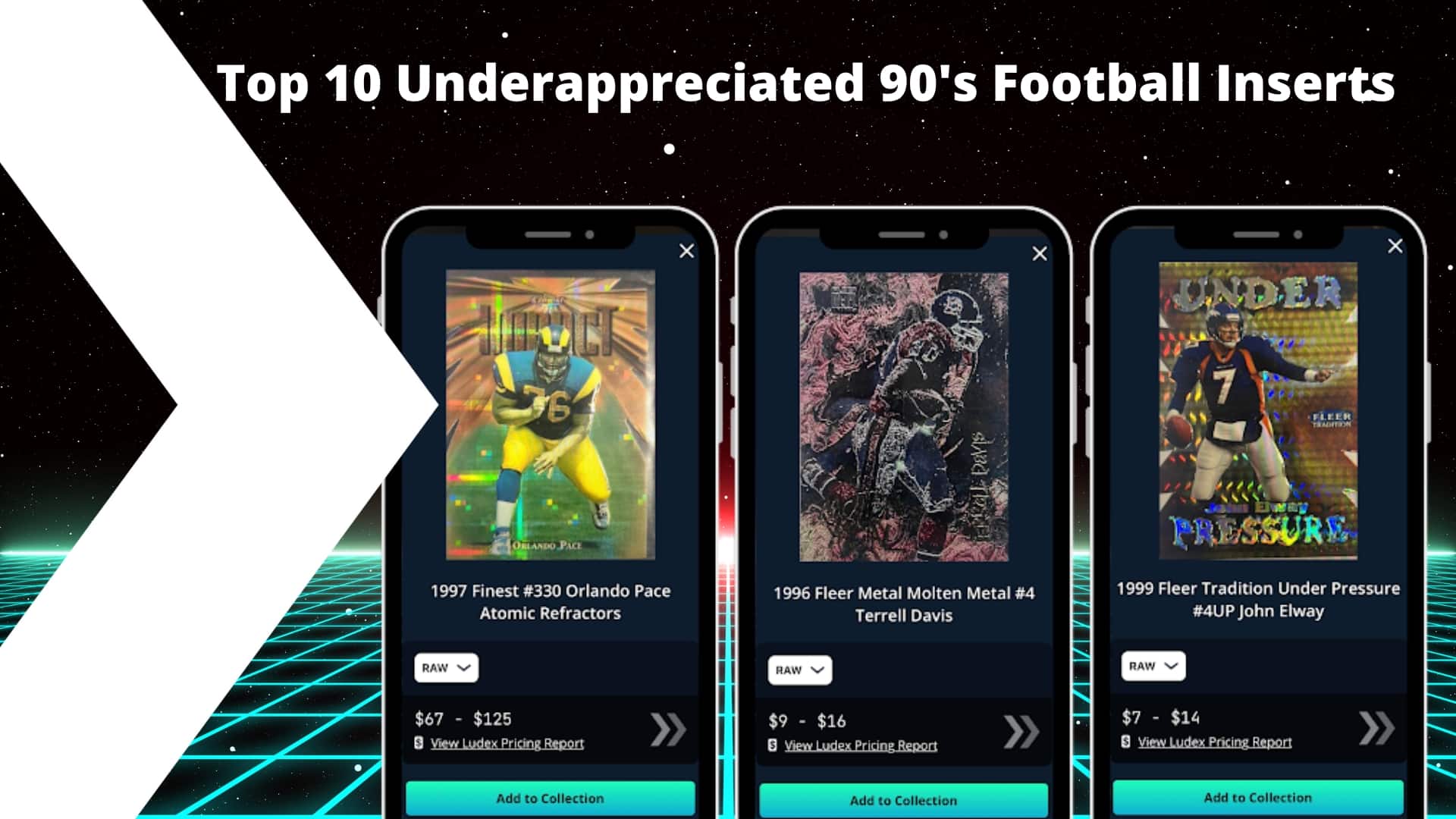 Top 10 Underappreciated 90's Football Inserts
Inserts from the 1990s are awesome, we all can agree on that. Basketball case hit-type stuff sells for car or house money if you get the right ones. However, football ones sell for $20, and you get the change back. In general, football inserts from the era are undervalued, it is a little mind-boggling given the fact football is by far the biggest sport in the United States. With that being said, there are still some amazing 1990s Football Inserts out there!
We all know about Essential Credentials, Precious Metal Gems, Ultra Exclamation Points, Gallery of Heroes, Metal Linchpins, Intimidation Nation, and many others. This list is going to be about the sets you don't hear about all the time, and maybe should. To make the list, the set must be at least one per box, or worse, and must be able to get most of the set for a $20 bill or less. Will Jerry Rice, Barry and Deion Sanders, Favre, Elway, and a few others sell over the $20 threshold? Sure. But we are looking for other Hall of Famers that are undervalued, especially when ungraded.
10. 1996 FLEER MOLTEN METAL: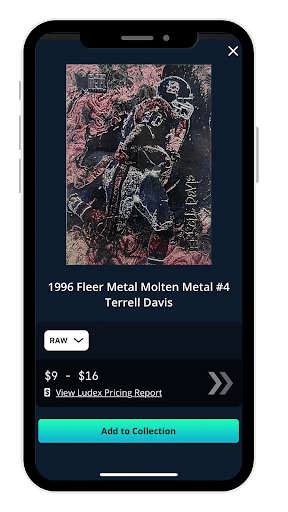 Fleer Metal started in 1995, had some cool inserts, and is remembered for its 1997 set mostly, but 1996 Molten Metal is very rare. Coming in at one per 120 packs, they just don't pop up. It's also obvious that someone at Fleer said we should make an entire set like this because one look and you can tell it's basically 1997 Fleer Metal a year earlier.
9. 1997 FINEST ATOMIC GOLD REFRACTORS: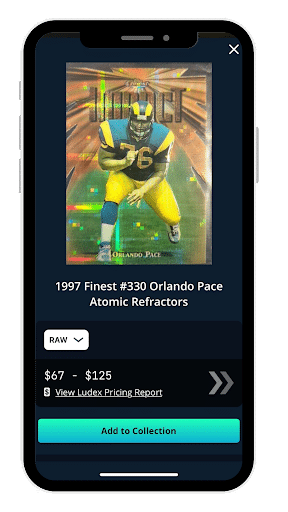 When it started to become apparent that chase cards needed to exist, Topps created refractors and eventually in 1997 Atomic Gold Refractors. One per 1,152 packs, with a 50-card checklist, you would need 57,600 packs, on average, to complete the entire set. Regular refractors have a shine to them that is consistent, but these are basically the 1997 version of an X-factor. The set is more parallel than the insert, but at the pack odds, we'll consider it an insert. While the star players here are more than $20, they feel like they should be closer to a few hundred, especially for HOFers.
8. 1998 METAL DECIDED EDGE: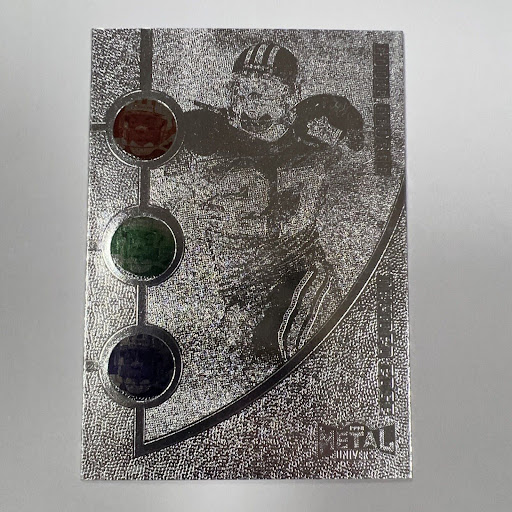 A card inside of a card comes from 1998 Metal Decided Edge. The outside covering has a pullout sleeve on the side with three holes on the front, and one on the back, to see colors and an image of the player. Very tough to grade well with the metallic surface and pullout, the cards fall 1-384 packs with 10 on the checklist. Recent auctions for the better players on the checklist have been around $30-60. Check 'em out!
7. 1995-2000 PACIFIC CRAMER'S CHOICE: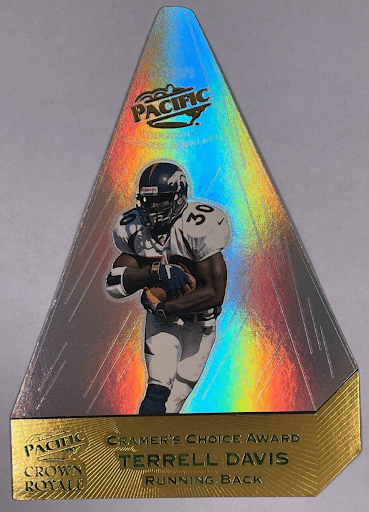 One of the kings of junk wax, Pacific, is also responsible for one of the toughest cards to hit by pack odds. Generally falling one in 720 packs across the years, the cards are die-cut triangular with a shiny upper portion that features a shot of the player in the middle. Rarely sent to auction, they're fabulous purchases and anything over an 8 is a good grade on these. To whoever got the recent Barry Sanders 1998 for $23 at auction, you did well.
6. 1999 ULTRA AS GOOD AS IT GETS: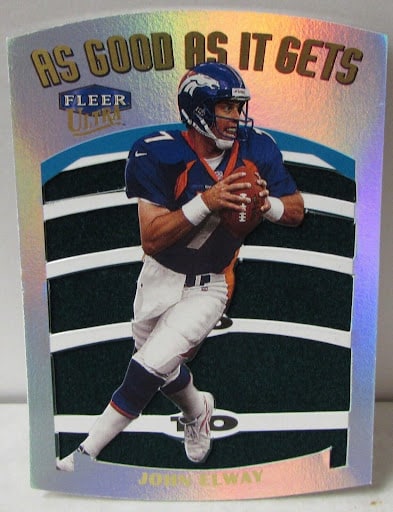 Another die cut comes in 1999 Ultra As Good as it Gets. One per 288 packs with 15 on the checklist means 4,320 packs would in theory net you the set. At $10-20 for most of the set, and $40 for Barry Sanders, these are tremendous buys. If you stuck these next to the 1998 Exclamation Points and asked non-football fans which set sells for more, the 1999 As Good as it Gets would get a decent percentage of the vote.
5. 1999 FLEER TRADITION UNDER PRESSURE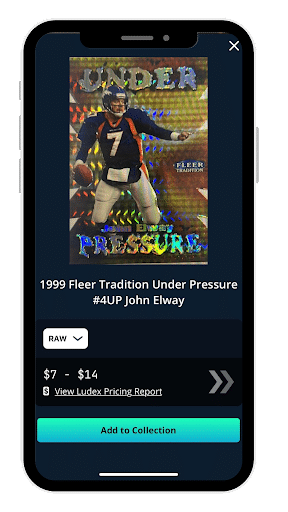 Very difficult to get good grades with the die cut across the side, 1999 Fleer Tradition Under Pressure has a fantastic shine to it. Most appear to have surface damage on the top front, but it's part of the design. Recent sales on Randy Moss, Peyton Manning, Brett Favre, and Emmitt Smith are all at $10 or under. At one per 96 packs with 15 on the checklist, that's too cheap.
4. 1997 STADIUM CLUB TRIUMVIRATE ATOMIC REFRACTORS: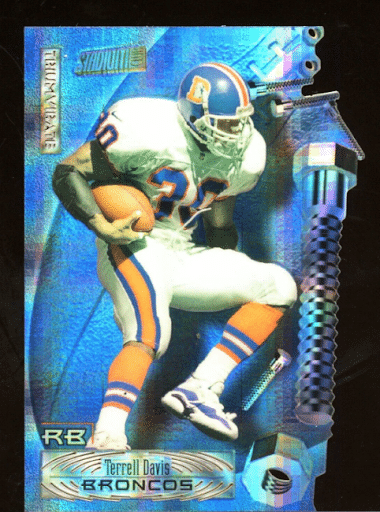 Die-cut cards just keep coming on this list with 1997 Stadium Club Triumvirate Atomic Refractors. While technically they don't have pack odds, good luck finding these at your local show. Featuring the same atomic refractor surface that comes in Finest and Bowman, they just look awesome. The star players do tend to draw closer to $50-100, but they would probably be more if they released pack odds for this set.
3. 1994-1996 SP HOLOVIEWS DIE CUTS: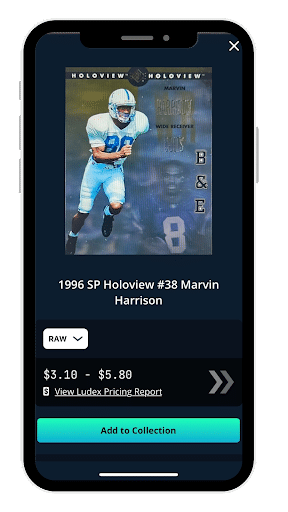 Throughout 1994 to 1996 Upper Deck SP had Holoviews and the much rarer die-cut version. All three years feature a hologram of the player on one side and a separate picture on the other side. In 1994 the die-cuts fell 1-75 with 40 on the checklist. 1995 was 1-75 and had 40 with 1996 only at 1-74 packs but had 48 cards on the checklist. That's 3,000, or more, packs to get the guy you want. For $5-20 with most guys, that's entirely too cheap.
2. 1996 SP SpX FORCE: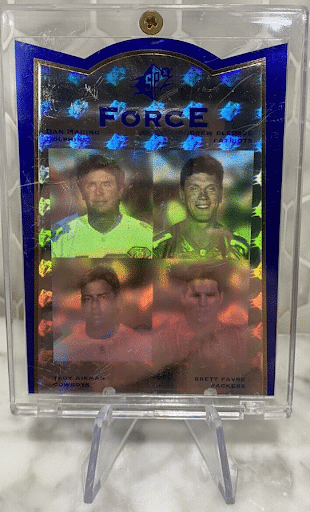 Upper Deck had fun with the tough-to-find chase cards in 1996 and added SpX Force into the SP set. Rare across all sports released for the year, the cards feature four players with holograph images on the card. Only four on the football checklist, but they pack a punch. One card has four Hall of Famers on it with Emmitt Smith, Barry Sanders, Marshall Faulk, and Curtis Martin, which goes for considerably more than the arbitrary $20 threshold. The Jerry Rice and Brett Favre ones do not and are fabulous buys. Autographed versions exist with Dan Marino, Jerry Rice, Barry Sanders, and Keshawn Johnson, although the first three sell for substantial money. They are so rare that there are currently less than 10 on sale on eBay, but just in case you are in the market for one check it out!
1. 1996-1998 PLAYOFF HONORS: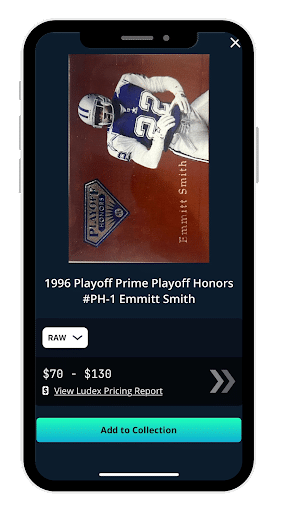 Today people consider Kaboom a great set because it appears across multiple sets and is a tough find across all of them. The idea was started in 1996 when Playoff decided to release a three-card insert set with 1-7,200 pack odds. They then released three more cards across six future Playoff products for a total of 21 cards. The easiest to find one is in 1998 Prestige at only 1-3,200 packs. It takes patience. We're breaking the $20 rule on this set, but they're not breaking $100 too often either.
This list is up for debate and could easily go in a different order. This is a hobby for us all to enjoy, and budget does not have to play into it as much as you think. The Ludex app is a great way to scan unknown cards to see what they are AND what they are worth, go download the Ludex App today!
Download Ludex For Free!
---
Want more Ludex content?
Sign up for the LUDEX Newsletter to recieve the lastest posts right to your inbox!