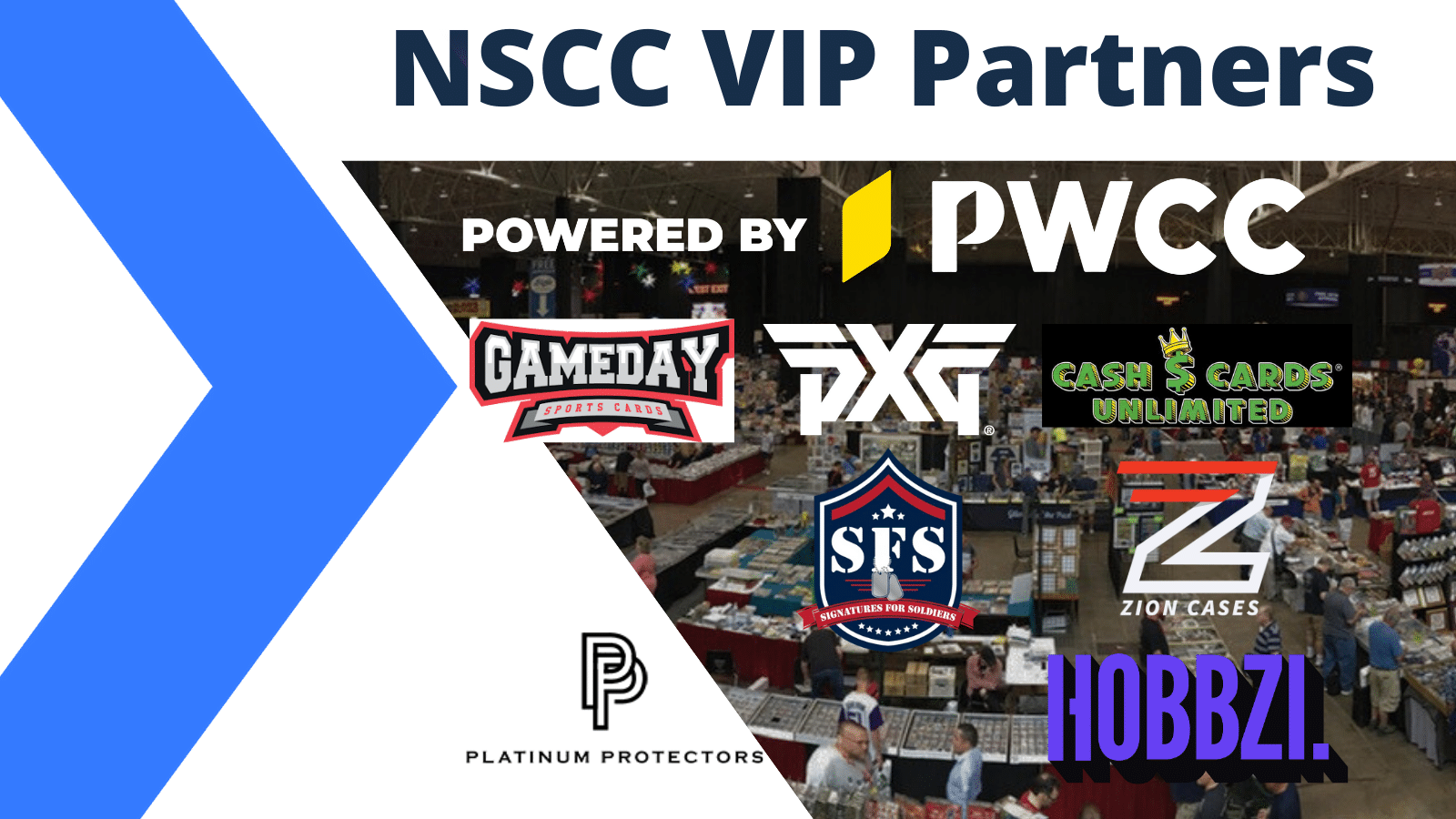 If you have not heard by now, Ludex is hosting the VIP Lounge at this year's National Sports Collectors Convention. We could not be more excited, especially because it is in our hometown of Chicago. Not only that, we are so lucky and grateful to have various partners to help make this experience unforgettable! And it all starts with PWCC Marketplace…
PWCC Marketplace is the largest and most sophisticated trading card archival service in the world, providing a seamless platform for buyers and sellers. We are so excited that PWCC is co-sponsoring the VIP Lounge with us and with their help we are truly going to bring A New VIP Experience to the NSCC.
Not only is PWCC going to be in the Ludex Lounge, but they are also at Booth 3011 where you will be able to:
Submit collectibles to your PWCC vault for storage or to sell
Sign up to be a PWCC member and meet their team
See how their products and partnerships can empower your passion
Not to mention, they always have beautiful collectibles on display that you rarely get to see in person.
Hobbzi Media is a modern media company dedicated to providing sports card collectors with the latest news, engaging media content, valuable resources, insightful podcasts, and top-notch education. We are so excited to have them as our Official Media Partner for The Ludex Lounge. They are handling all things media and content in the VIP Lounge. So tune in, because you are not going to want to miss what they are producing.
 Platinum Protectors is a collectible protective company that provides collectors with a premium quality level of protection while maintaining an affordable price point. Not only do they have protective cases for cards but they also have designed cases for action figures, Funko Pops, video games, and more. Platinum Protectors will be in The Ludex Lounge all week long with samples and an array of products they offer. Plus VIP ticket holders will have chances to win protective equipment from Platinum Protectors. 
We are beyond excited to have Signature for Soldiers as our charitable partner in The Ludex Lounge. Through the generous donation of their time, SFS partners with athletes, collectors, and companies who donate autographed items for sale through Signatures for Soldiers. The money raised is then dispersed through grants to other charitable organizations whose work fulfills the mission to help disabled and homeless veterans. SFS will be in the VIP Lounge all National long and they will be accepting donations for their auctions!
Ludex and PWCC are providing something BRAND new to the VIP Lounge and just to The National in general. That is a Mobile Golf Simulator Hosted by PXG. PXG is truly THE ULTIMATE GOLF CLUB FITTING EXPERIENCE, with every club engineered to be customized, a personalized fitting experience is the standard for PXG – regardless of swing or skill. Experience a fitting like no other, and take your game to the next level!
VIP Pass holders will get exclusive access to the PXG Mobile Golf Simulator and a FREE custom fitting. The appointments are LIMITED so book your fitting now only at The National, fittings are available 7/27 – 7/29, 10am – 3pm.
On Wednesday 7/26, Cassius Marsh will be our first Pop Up Partner of the week. Cassius Marsh is an NFL Player, owner of Cash Cards Unlimited, one of the biggest Magic: The Gathering influencers on the internet, and collector! Cash Cards Unlimited is a card shop located in Thousand Oaks, CA. CCU provides several types of cards, including Magic: The Gathering, Pokemon and Yu-Gi-Oh strategy cards, while also having a strong selection of sports cards. Not only will CCU provide exclusive card packs, but we will also offer cards and guidance for beginners looking to break into the world of collecting and for those wanting to learn the specifics of card strategy games.
Cassius will be in The Ludex Lounge shooting content (with some of the biggest personalities in the Hobby), doing giveaways, and just hanging out with all the collectors in the VIP Lounge and on the main floor.
It is plain and simple, Zion Cases Protects the Hobby. Zion Cases is continuously developing new products that provide each individual card collector exactly what they need to protect their cards. Whether it be for trade nights, card shows or traveling by air to different events; Zion Cases is determined to be the leading supplier for all card storage options in the card collecting industry.
Zion Cases will be our Pop Up Partner on Thursday 7/27. Zion plans on doing giveaways varying from slab cases, cross chest bags, Magpro cases, and more. You definitely do not want to miss out on this.
Artists Live in the Lounge
Andy Friedman @sundayfriedman
Tom Carver @thecardcarver
Ivan Belsic @artisbullshit
Lauren Taylor @laurentaylorillustrations
Marly Mcfly @marly_mcfly87
Charles Edwards aka Chuck Styles @chuckstyless
Luke the Cardist @lukethecardist
Ken Karl @ken_karl_sports_art
Above is a list of various artists that will be live in the Ludex Lounge on Saturday 7/29! These artists will be showcasing their work, designing new pieces of art in person, conducting interviews / Q & A's, and much more! Not only that, Andy Friedman will be doing a live 1/1 Brian Urlacher piece in the lounge on Friday 7/28. These artists specialize in sports art and you do not want to miss out on this experience!
Last but not least, our Pop Up Partner for Sunday, the final day of The National, is Gameday Sports out of Las Vegas! Gameday Sports is one of the premier collectible stores in Las Vegas and of the most trusted stores in the Hobby. Whether you are shopping in store or on live streams, Gameday has what you are looking for! They will be in the Ludex Lounge shooting content and doing giveaways. Do not miss out!
Once again, we are so thankful to have so many great relationships in the Hobby. We are so excited to team up with everyone to take the Hobby Experience to the next level!
See you at The National everyone
---
Want more Ludex content?
Sign up for the LUDEX Newsletter to recieve the lastest posts right to your inbox!