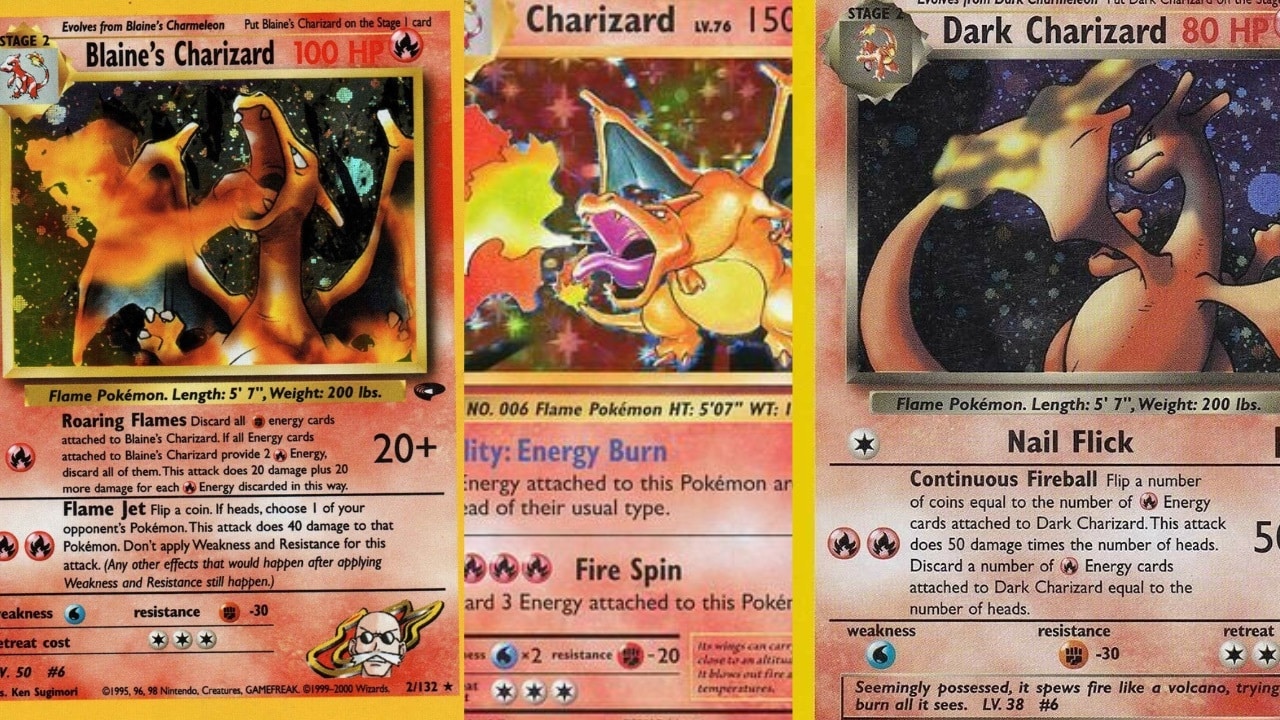 Let's be real here, when it comes to Pokemon the first thing everyone thinks of is Charizard. Having a Charizard in your collection is a MUST for any TCG collector. But let's face it, sometimes Charizard cards are hard to obtain and definitely can break the bank for a lot of collectors and investors. I mean a PSA 10 1999 Pokemon Charizard Shadowless First Edition Holo sold in March 2022 for $420k, that's a little out of budget for the average collector. Not to mention Logan Paul has that same card but is graded as a BGS Pristine 10 which is thought to be worth WELL over a million dollars. 
With Charizard cards making headlines year after year you probably think obtaining one is too difficult or too expensive, well that is why Ludex is here. We are going to give you 7 of the top Charizard cards to collect and invest in. This list consists of Charizard cards that are affordable, lucrative to flip, rare, classic artwork, "off the beaten path", and some that have really cool stories behind them. So let's dive into the Top 7 Charizard cards that should be in your collection. You can use our Pokemon card value scanner to see their price. See the links below to download the app!


2007 EX Power Keepers Holo
$67 On Average for a raw card 
PSA 10: $3,330 (Pop 112)
PSA 9: $320 (Pop 390)
PSA 8: $193 (Pop 156)
Total Pop: 848
With a total PSA Pop (population of graded versions of a specific card) of less than 900 and an average price for a raw card for less than $70 the 2007 EX Power Keeps Charizard Holo seems like a legit buy to me. A NM (near mint) to MINT card can give you a decent return on investment if you were to get this card graded, but if this card graded out as a PSA 10 you basically hit the lottery. Also, let's just take a moment to admire the artwork. Charizard just staring at the moon in the night sky, simple yet so beautiful.
1999 PM Japanese Gym 2 Blaine's Charizard
$61 on average for raw card
PSA 10: $609 (Pop 765)
PSA 9: $212 (Pop 1365)
PSA 8 : $140 (Pop 589)
Total Pop: 3588
Listen, nothing hits harder than vintage Pokemon and I truly believe that the Gym Heroes set might be tied for the greatest artwork in Pokemon history. With that being said, let me introduce to you the Japanese version of 1999's Blaine's Charizard. The holo, the flame, and the intensity are a chef's kiss when it comes to artwork. Even though there is a high PSA pop report and the returns are not massive, you can own an iconic vintage Charizard card for basically $60 raw. That is a no brainer. Vintage Pokemon for the win.
2000 Team Rocket Dark Charizard -HOLO
$118 on average for a raw card
PSA 10: $2650-3000 (Pop 146)
PSA 9: Average $242 (Pop 1261)
PSA 8: Average $238 (Pop 1168)
Total Pop: 4742
Remember when I said that the Gym Heroes set is tied for the greatest artwork in Pokemon history? Well this is what it's tied with. The Team Rocket Set includes "dark" versions of Pokemon which made the artwork a little bit more mischievous than collectors were used to seeing. The Dark Charizard truly is the first time that collectors have seen a different side of this iconic beast. This card is a bit more expensive and has a pretty large graded population, but once again this gives a collector a good chance to own an iconic Charizard without completely breaking the bank.
2001 Pokemon Japanese Expedition 1st Edition -HOLO
$197 on average for a raw card
PSA 10: $1100-1250 (Pop 339)
PSA 9: Average $420 (Pop 161)
PSA 8: $200-250 (Pop 44)
Total Pop: 590
The 2001 Japanese 1st Edition Expedition set is a very sought after set for many reasons. One of the main reasons is because this set introduced a new card design. Sometimes change can be hard, but sometimes change can bring some strong collectibility factors, especially when something is first edition like this card. This artwork is great because it is one of the first times we see Charized in flight, very majestic. This card brings many firsts for Pokemon and Charizard and that is why it's a great card for your collection. Being worth almost $200 raw and a low PSA pop shows you the scarcity of this card, I'll cough up a little extra cash for the quality of this Charizard.
2019 PM Black Star-HOLO (Mewtwo Clone)
$25 on average for a raw card
PSA 10: UNKNOWN one listed at $1000 (Pop 128)
PSA 9: Average $50 (Pop 876)
PSA 8: Average $49 (Pop 307)
Total Pop: 1475
This card intrigues me for multiple reasons. An obvious reason is the price, $25 on average for a raw card, talk about a fairly priced holographic Charizard. Also, the sales data is odd, PSA 8 and PSA 9 are relatively the same exact price. So do not jump the gun when purchasing one of these cards, make sure you find the right listing.
My favorite part of this card though is the story behind it. It is paying homage to the first ever Pokemon movie starring Mewtwo. This Charizard is actually a clone of a Charizard which was created by Mewtwo (see the story on the bottom right of the card for proof). So you're telling me this is a Charizard card that is not actually a true Charizard? I'll take it. The story alone is a reason why it should be in your collection, not to mention the awesome artwork. A cross-armed Charizard just gives off so much attitude.
2021 PKMN SWSH Special Delivery Bidoof
$180 on average for a raw card
PSA 10: Average $988 (Pop 123)
PSA 9: Average $253 (Pop 177)
PSA 8: 1 sale at $210 (Pop 24)
Total Pop: 331
Now, this is one of the weirdest "Charizard cards" of all time. I put the Charizard card in quotes because it is actually a Special Delivery Bidoof card. As far as I know, this is the only Pokemon card that features Charizard that is technically not a Charizard card. That alone makes this card very collectible. To add to the collectibility of this card, the PSA pop report is very low making it more sought after. Even though $180 for a raw card is expensive, this card is super unique and rare enough to want to add to your collection and hold onto for a long time. 
2008 103/100 Stormfront-HOLO
$155 on average for a raw card
PSA 10: No current listings (Pop 46)
PSA 9: Average $995 (Pop 351)
PSA 8: Average $382 (Pop 239)
Total Pop: 888
I love the Stormfront Charizard from the 2008 Pokemon Diamond and Pearl Set because it is a reimagined design of the original 1999 Pokemon Game Charizard. It is big, powerful, and in your face. Other than the artwork, it is a great card to invest in. Even if you were to get a PSA 8 grade it would more than double your initial investment. With no current PSA 10 listings online and a VERY low PSA pop report, a gem mint card would give you some SERIOUS return on investment (easier said than done, I know).
Charizard is iconic and if you are a collector of Pokemon or any TCG you are definitely going to want one to show off, so why not invest in one of these 7 listed above? Charizards come in all shapes, sizes, designs, and prices. Invest in cool cards and buy what you like, but hopefully this list can give you some guidance. Peace!
Use the Ludex Pokémon card value scanner to identify and find the value of all your Pokémon cards.
---
Want more Ludex content?
Sign up for the LUDEX Newsletter to recieve the lastest posts right to your inbox!