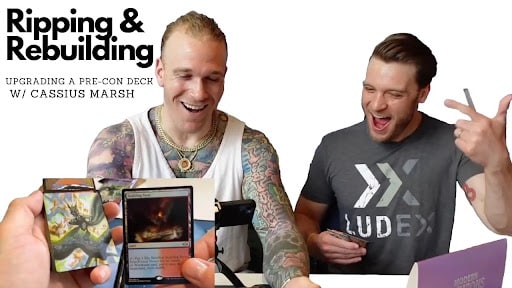 NFL star and self-proclaimed "Foil King" Cassius Marsh came by Ludex headquarters to help Brock on his journey back into playing competitive Magic: The Gathering. Brock has been using the Magic: The Gathering trading card app scanner, Ludex, to build his first deck.
A pre-constructed deck was purchased along with other Magic: The Gathering set boosters to try and upgrade Brock's Commander deck. They used the Ludex app to scan and value the Magic: The Gathering cards along the way.
Watch to learn from Cassius how he builds his own Magic decks for competition.
Download the Ludex app for free today.
Watch Ludex's Brock and NFL player Cassius Marsh rip Magic: The Gathering packs and rebuild a pre-con deck.
Try the Ludex app today for FREE!
---
Want more Ludex content?
Sign up for the LUDEX Newsletter to recieve the lastest posts right to your inbox!