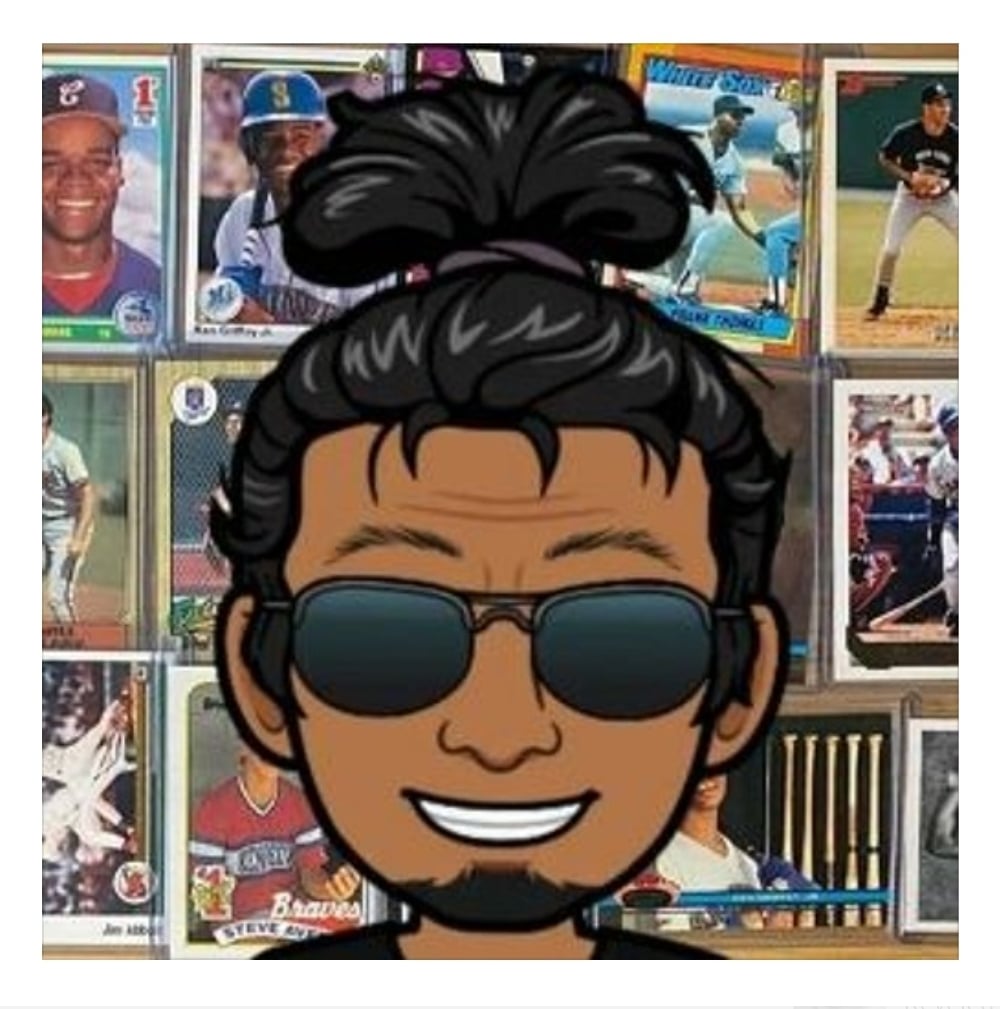 Top Of The Game
By 1991, Nolan Ryan had been featured on baseball cards for more than two decades. While most baseball players with Ryan's tenure eventually saw a decline in their abilities and popularity among fans, Nolan was somehow at the top of his game at age 44. Ryan was also one of the most popular players in The Hobby and card companies were all producing inserts dedicated solely to his amazing accomplishments, usually revolving around his 5,000 career strikeouts and/or 7 no-hitters.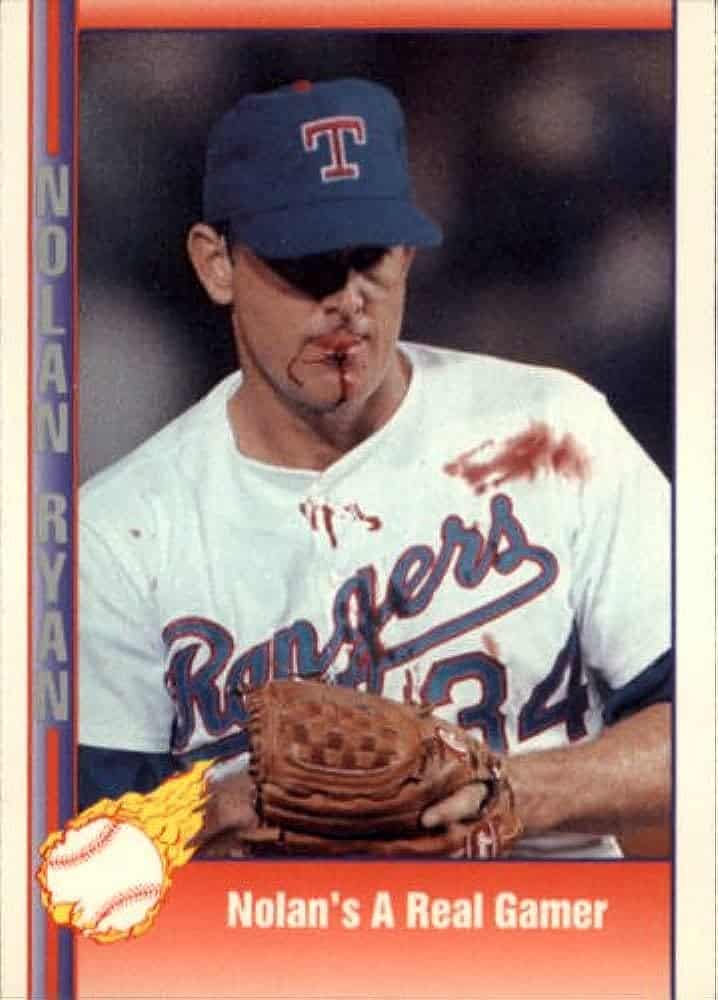 That year, Nolan was set to be featured in Series Two of Pacific Trading Cards' Nolan Ryan Texas Express, which was the mastermind of Mike Cramer. Mike was an outsider during the Junk Wax Era, producing baseball sets here and there for decades until finally landing a deal with MLB & the MLBPA to produce licensed baseball cards. By the late '90s, Cramer's creative inserts, unique parallels, and colorful and bright printing technology were carving out a niche for himself with all sorts of collectors.
But this was 1991 still, Mike was a little fish in a big pond but this little fish had teamed up with the biggest shark in the ocean to produce Texas Express, a colorful and fun tribute to the career of Nolan Ryan. If you collected sports cards during the Junk Wax era, especially during the later years of 1991-'93, you've likely seen thousands of these Texas Express cards and own twice as many. Much like most of the cards from that era, these unique sets were overproduced.
Today, these cards are overlooked by many collectors but thanks to a conversation with one of the most elusive men in the industry, Mike Cramer, there is renewed interest in these sets. For decades, collectors have talked about glow-in-the-dark backs on some Pacific Nolan Ryan Texas Express cards. Unfortunately, there has never been any concrete information available aside from a dozen or so forum posts on message boards dating back decades or longer. The cards weren't discussed by Beckett and for over 30 years have remained a mystery.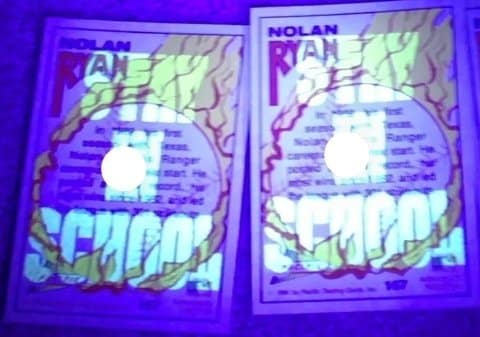 Chasing Down Mike Cramer
All that changed on September 7th, 2023 when I reached out to the elusive Mike Cramer. That's not hyperbole, either. After Cramer's trading card empire collapsed in the early 2000s, no one in the industry had seen or heard from him for close to twenty years. In 2018, I began my series, "Chasing Mike Cramer" and dug deep into an investigation that ended when I was contacted by Mr. Cramer's son. I was told that Mike appreciated my enthusiasm and passion for his work in the industry but he had to politely decline to be interviewed. After five years of chasing Mike down, it was heartbreaking.
You can imagine my shock when earlier this year none other than Mr. Pacific Trading Cards himself, Mike Cramer, reached out to ME to let me know that he was in the final stages of putting together his memoirs and that he appreciated me for pushing him through a personal crisis and that yes, it may be a little late but, as he put it, "You found me". Today, we have pleasant email correspondences. From time to time I reach out to have him dispel old rumors or to get information on specific products he released during his time in the trading card industry.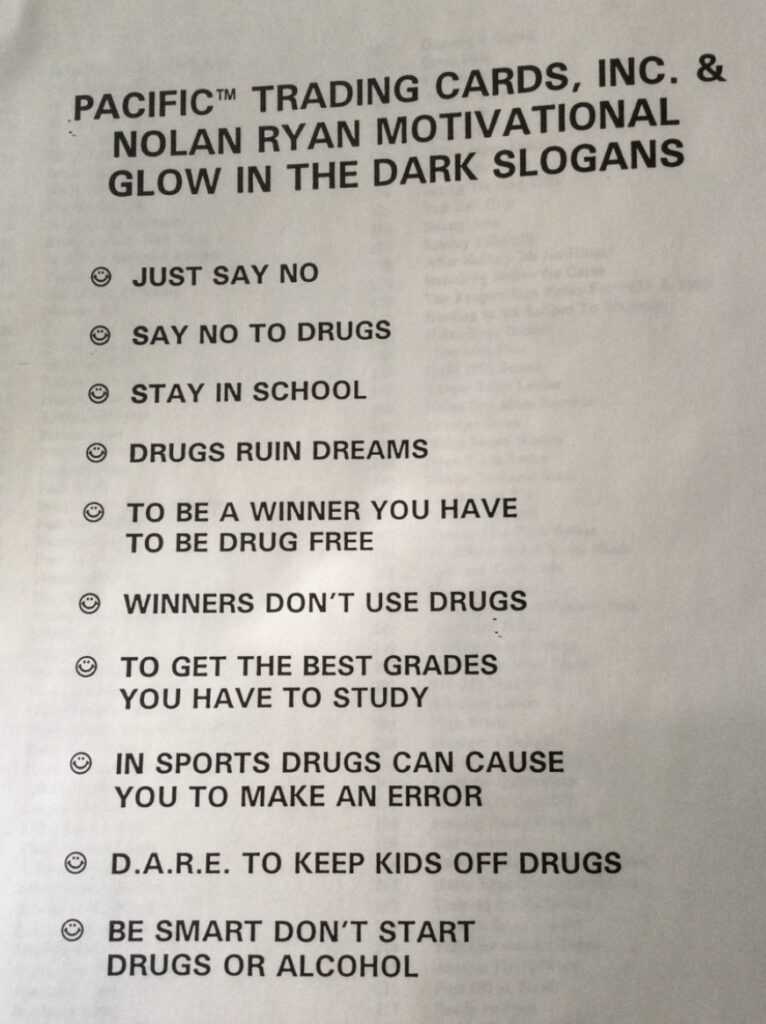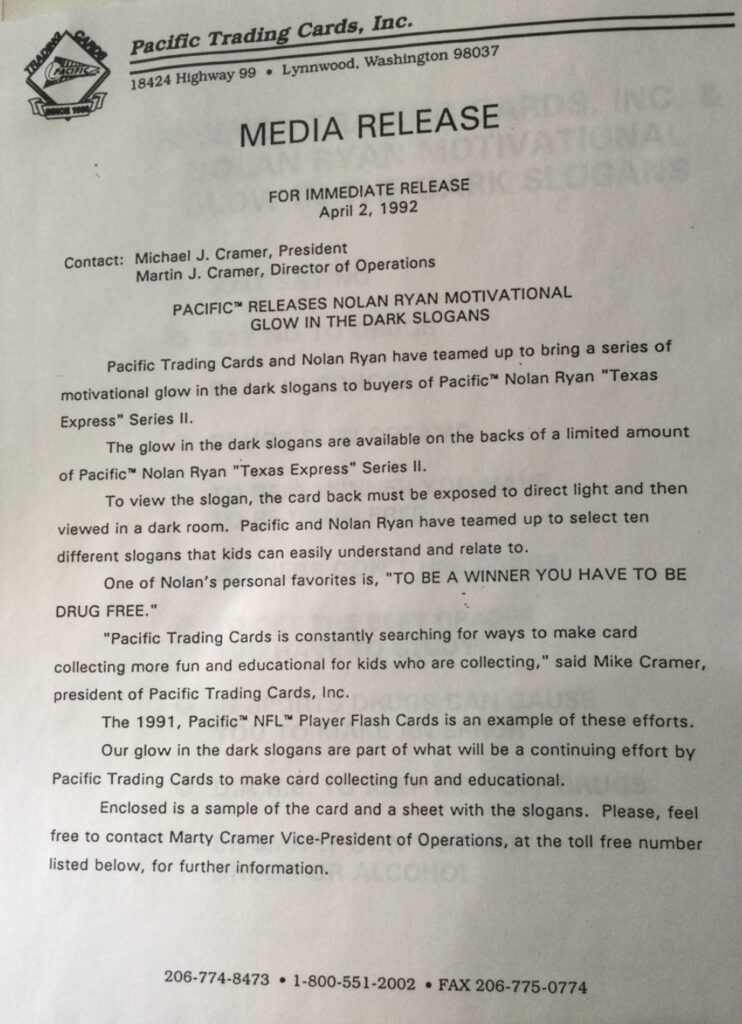 Glow Slogan Cards
The information Mike provided puts to rest a more than 30-year-long mystery. For starters, these glow-in-the-dark backs are actually titled, 'Motivational Glow in the Dark Slogans' and there's a total of 10 in the checklist. While he doesn't remember the exact print run, he believes there are less than 100. Unfortunately, it took Pacific Trading Cards several attempts to successfully work the glow-in-the-dark technology and by the time they mastered the process, the final case run of cards was being printed. That makes these cards extremely limited, by Junk Wax or modern trading card standards.
By the way, in case you didn't already love Nolan Ryan, be prepared to fall head over heels. Mr. Cramer told me that these motivational slogans were 100% Ryan's idea. Nolan took being a role model to millions of baseball fans very seriously and wanted to get these messages out to children and thought the best way to do so was through trading cards. You have to remember, not many had access to the World Wide Web in 1991 and if they did, YouTube and other social media platforms were still ages away.
My whole purpose in writing these Junk Wax Treasure Hunter articles is to assist collectors in finding treasure in what most collectors these days consider "junk". Yes, this era of trading cards was incredibly overproduced but if you look hard enough, there are still many rare and valuable cards to find if you're willing to put in the work. What's more amazing than finding one of these extremely rare Motivational Glow in the Dark Slogans cards out of a $5 set off eBay or maybe even less sitting in a garage sale somewhere in Anytown, USA?
Happy Huntin',
-The Junk Wax Bounty Hunter
---
Want more Ludex content?
Sign up for the LUDEX Newsletter to recieve the lastest posts right to your inbox!