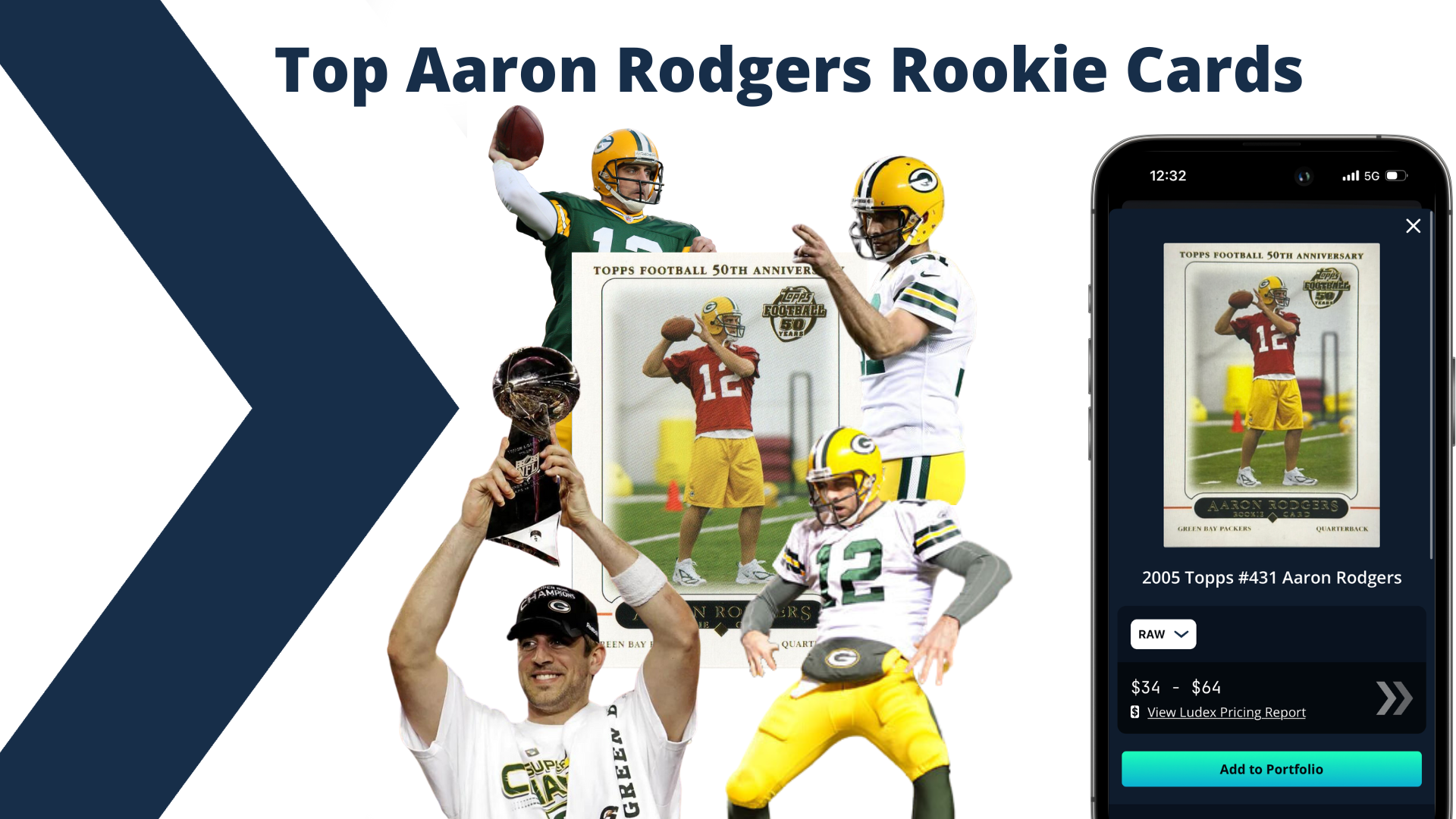 Author: Boomers_Card_Collection
Aaron Rodgers is one of the most dominant football players of all time. He's won a Super Bowl, won the Most Valuable Player trophy four times, and been named to the Pro Bowl ten times. The football community tends to view Tom Brady more fondly due to the Super Bowl wins, but he's also had a lot more help throughout the years than Rodgers had for his career. Recently, Tom Brady has become more likable due to his social media presence, while Rodgers tends to shut out the media and doesn't appear often in public.
Let's examine some of Rodgers' best cards, and how to separate the best ones from the rest. By the time he retires, he will have played for two solid decades and will have a lot of cards from every year. He was a first-round pick, plays quarterback, has one of the most passionate fanbases in sports behind him, and became a superstar. Some of these cards have low-numbered versions that we will ignore. Variations are not a new thing to the hobby, and a 1/1 will sell for whatever it sells for, regardless of player.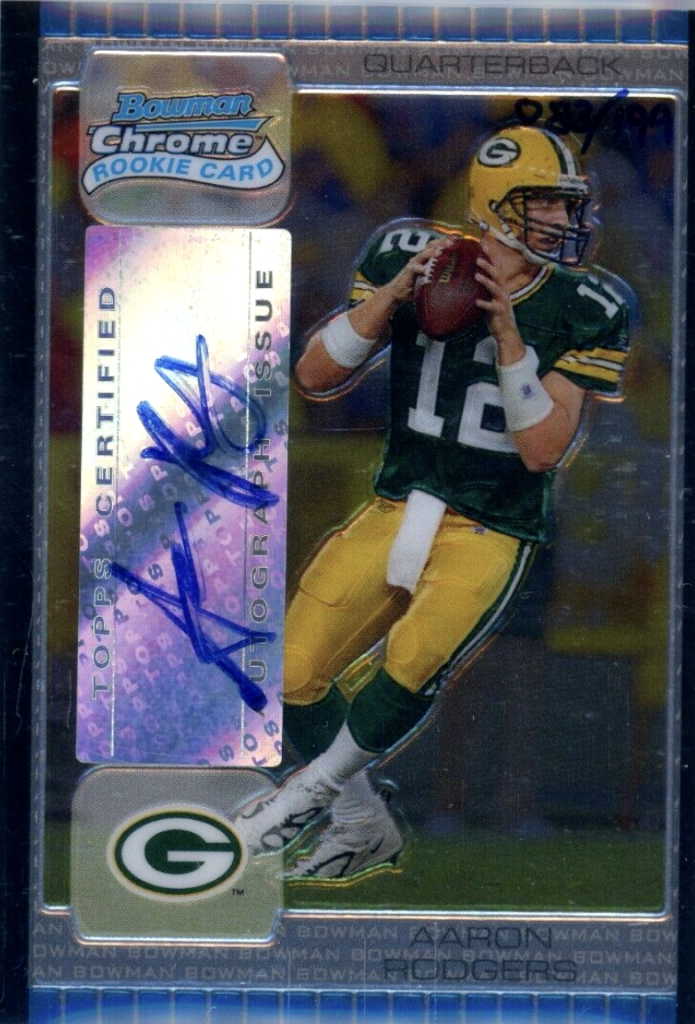 Our first Rodgers rookie card listed is his Bowman Chrome autograph. Numbered to /199, he does not have a base Bowman Chrome that others do in this set. This card is great because it shows the distinct throwing motion that he used to have prior to NFL coaching. The cheapest copy sold on eBay in the last 90 days was $1,800. He does have a regular Bowman card, but that sells for a fraction of the price. Rodgers Bowman's Best is also numbered /199, in autograph form, and has recent sales at $800 on the low end.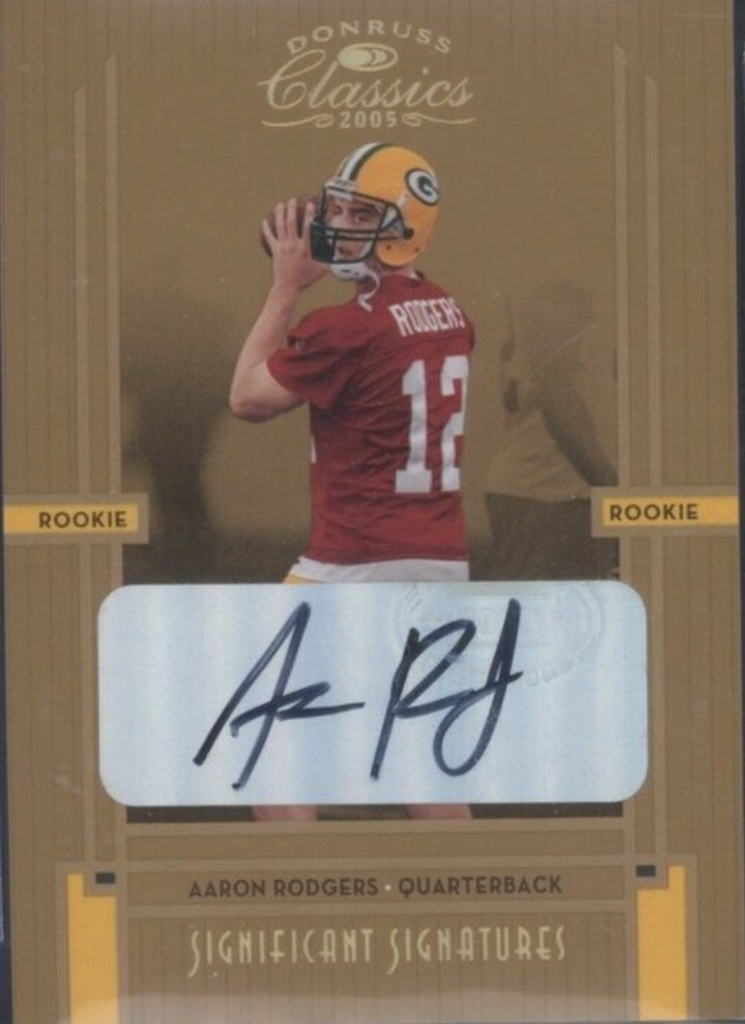 Numbered to /999, Rodger's 2005 Donruss Classics rookie card features a gold backdrop and a shot from Packers rookie camp from that year. The card typically commands $100-250 in normal conditions. There's going to be a decent number of rookie cards on this list, but 2005 wasn't a heavily printed year. Therefore, /999 may seem like a lot to modern collectors, but there weren't lots of parallels to choose from. There are autographed versions of this card that sell for $2,000 and up and color variations of the base card as well. His Donruss Throwback Threads rookie has similar /999 numbering with a few parallels and sells for similar money.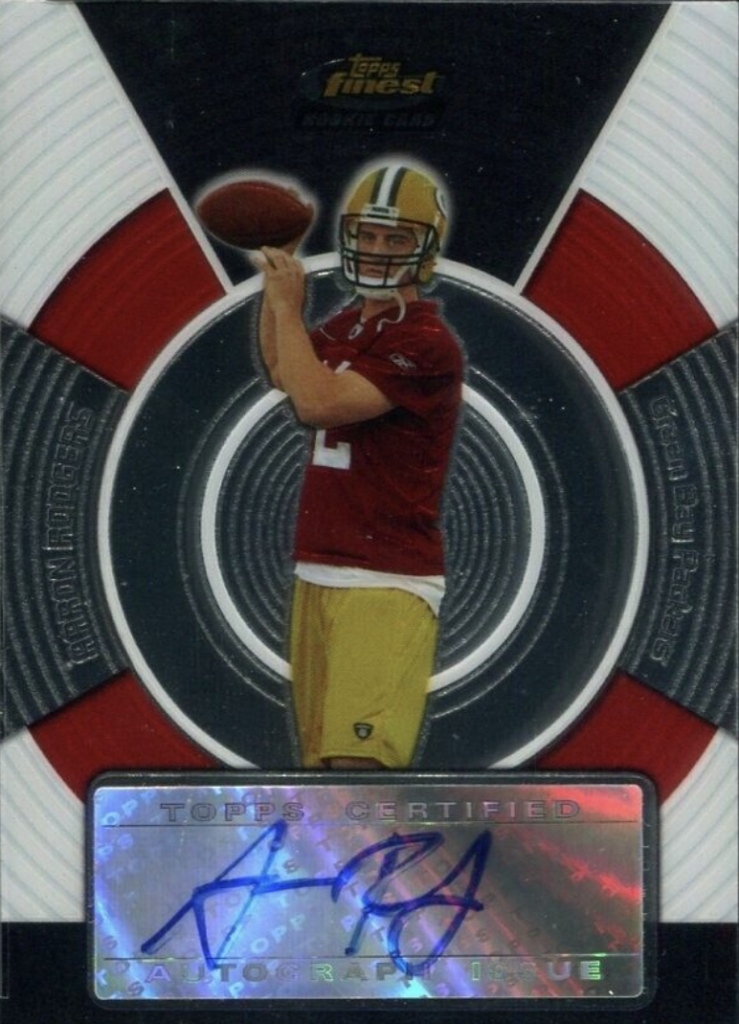 Like Bowman Chrome, Rodgers does not get a base Topps Finest rookie and only gets the autograph. Numbered /299, you're likely looking at $750 or more to get one. This also features a shot from the rookie camp.
Continuing the numbered trend for 2005, Rodgers Leaf Limited base rookie is numbered/250. You likely need at least $100 to get one. His Leaf Certified Materials is numbered/1,000 and has similar pricing.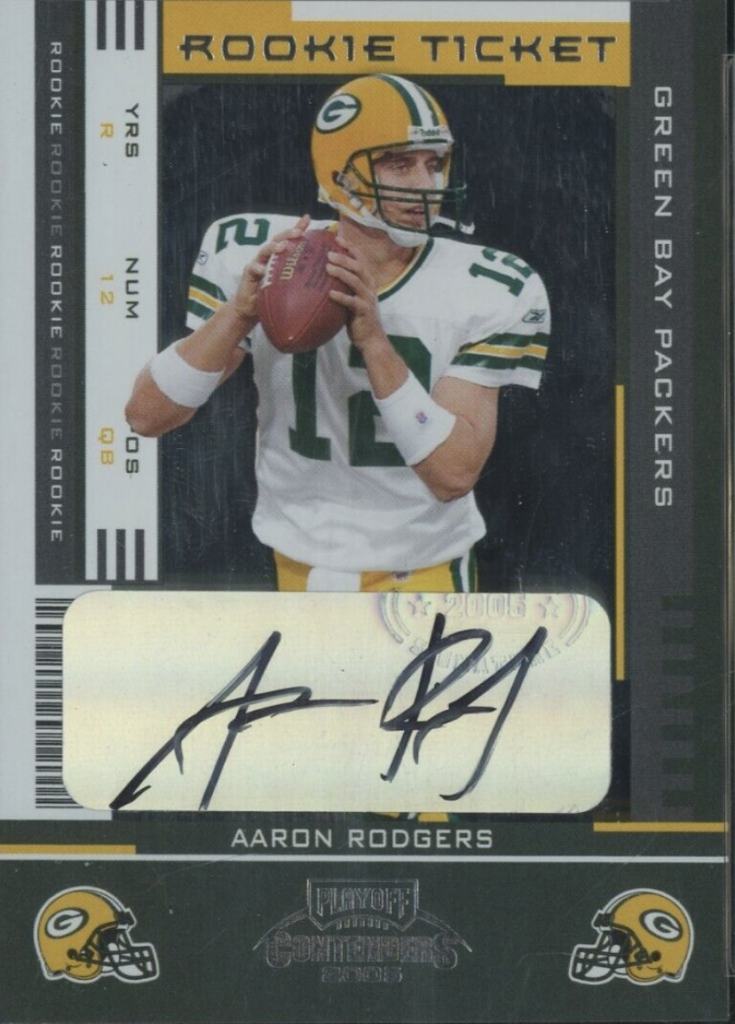 Excluding premium products, Contenders has been the standard for rookie autographs since its inception in 1998. Rodgers's rookie year is no exception, as a PSA 5 version of this card recently sold for $1,248 at auction. This year features a silver sticker autograph, but they look fantastic. This will always be a chase card for collectors.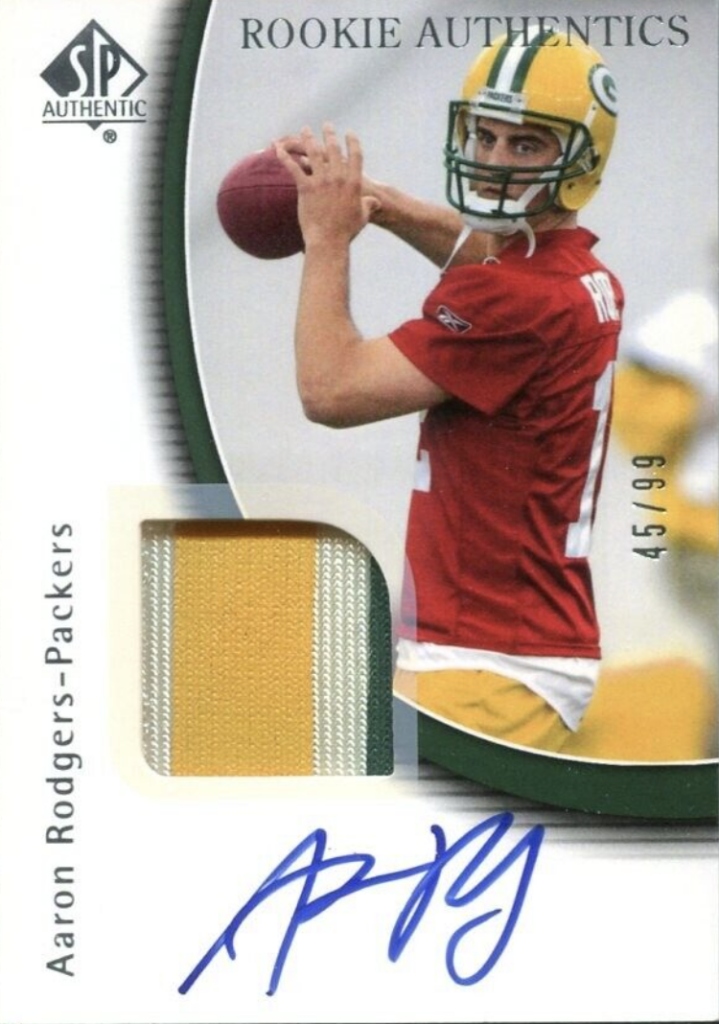 Speaking of premium products, SP Authentic has the 'base' card for Rodgers being a patch autograph numbered to /99. PWCC has five sales north of $10,000 since 2020, with the last one being $30,000. SpX is another Upper Deck product that is numbered to 250 and has a recent sale of $2,250 as well.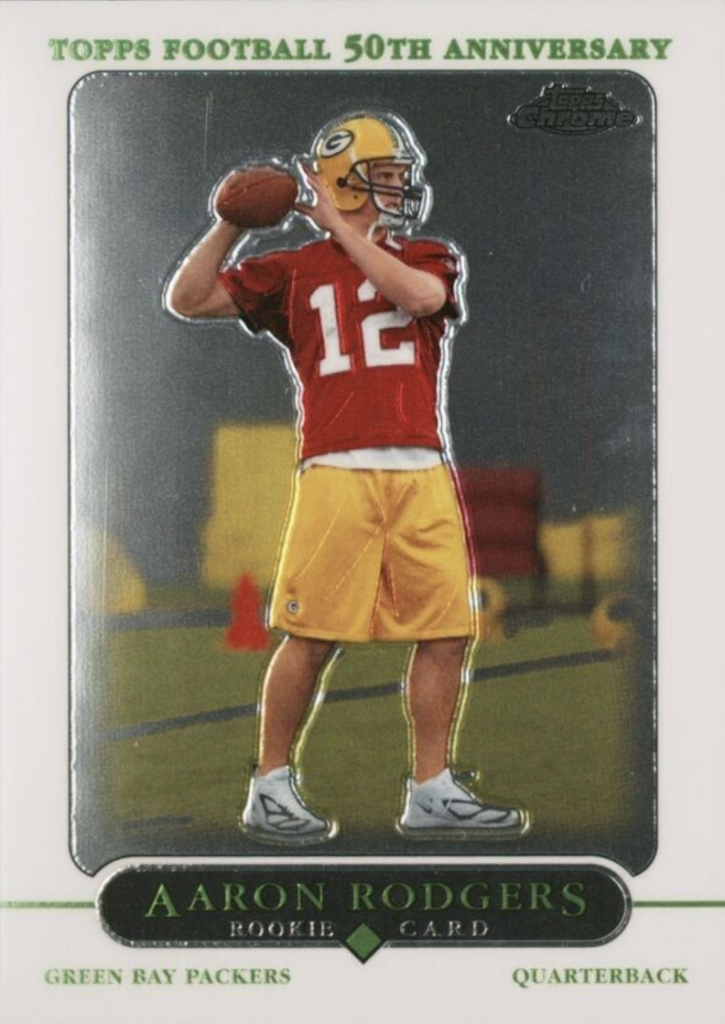 Rodgers base rookie in Topps Chrome has centering issues, and a 9 from legitimate three-letter grading is almost the equivalent of a 10. The card features the famous rookie camp photo and is the affordable way to get a good Rodgers rookie. PSA 9 sales have been around $300 lately. Numbered Black Refractors and autographed Gold X-fractors command a very high premium to that number. Both are easily in the four digits price-wise. Due to the price point of Topps Chrome, regular Topps sells for around $100 in PSA 9 condition. Topps Pristine is like Bowman Chrome as well with the 'base' Rodgers being numbered to /100 and signed. You need at least $1,000 to acquire one if the seller is interested in moving it.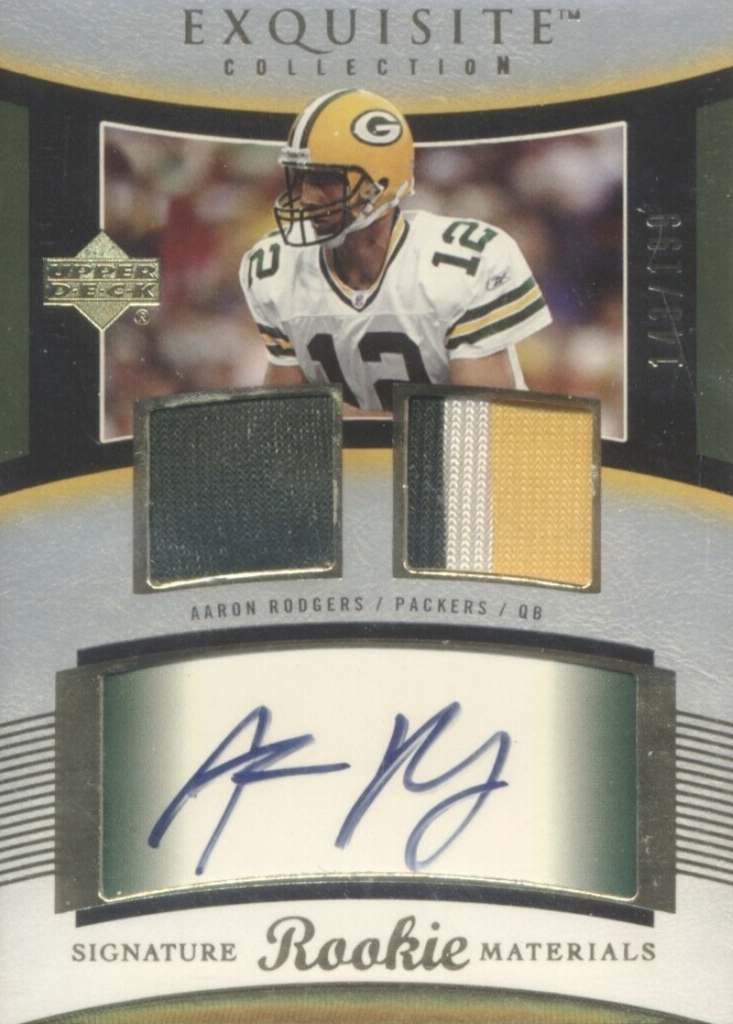 Card companies knew they needed to create better products with hobbyists leaving and there being nothing special about most sets from the junk wax era. One of the responses to this was the ultra-premium Exquisite set. Numbered to /199, Rodger's cheapest eBay listing is $4,000 currently. Due to being known more for veteran patches and autographs, Exquisite from this era does not command super-premium pricing on rookies, but has some beautiful game-used cards. Upper Deck Ultimate is numbered to /99 and is autographed. The cheapest Rodgers in that set is listed at $4,300 currently. Both of these sets were the Flawless of their day.
RELICS
None of Rodger's 2005 relic cards were game-used, as he was a rookie. He does have game-used products starting in 2006, but 'first Rodgers game used cards' do not hold much of a premium, as game-used, or rookie event worn, relic cards were commonly inserted one per blaster during the era. Game-used one-color Rodgers swatches generally sell for $20-30, while multiple-color patches tend to get $75-100. Even though they're relatively unpopular compared to other superstars, they're cards that get scooped very quickly at shows.
AUTOGRAPHS
As of writing, the cheapest Rodgers rookie autograph at "buy it now" is $375 in Press Pass, which is in a college photo. The cheapest licensed solo Rodgers rookie autograph is $975 currently. Many of his rookie autographs will feature other quarterbacks, or college teammates, and sell for less. The cheapest Rodgers "buy it now" in-person autograph that is certified is $275 which is not personalized. The short version of this is if you want a decent Aaron Rodgers autograph, you're usually looking at a $400 minimum even with some patience. He doesn't sign much because he doesn't need the money and tends to stay private. Like it or not, that leads to a very expensive autograph.
If your niche in the hobby is collecting rookie cards, Rodgers has plenty of fine options to choose from. If you like relic cards, get ready to bust out a $100 bill for a good one. If you like autographs, start stacking those $100 bills. If you like non-rookie refractors and silver or numbered Prizms because you feel they're the same card for a fraction of the price, Rodgers will give you plenty to choose from. He will be remembered as an all-time great, and 2005 will remain a low print run year. Both of those are not changing. Collect what you like. Buy what you can afford. Buy what makes you happy instead of chasing what makes others happy.
Check out our YouTube video for more information.
Shop Aaron Rodgers cards on PWCC.
Download Ludex For Free!
---
Want more Ludex content?
Sign up for the LUDEX Newsletter to recieve the lastest posts right to your inbox!