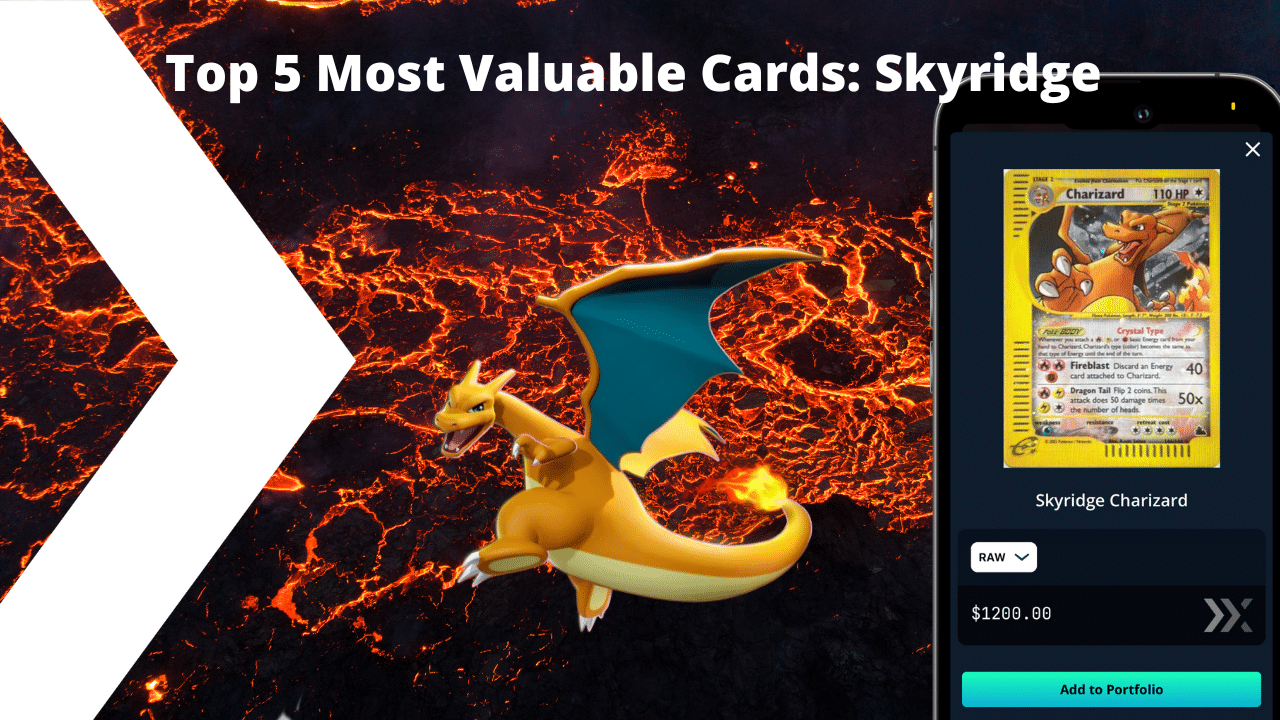 Pokemon Skyridge was released in 2003 as part of the "E-Card Series" which was the first time in Pokemon Card history the design of the actual card was different. The E-Card Series featured, in a way, alternative artwork of Pokemon that the collector had not really seen before. Not only that, Skyridge had a very low print run, meaning that there were not as many cards printed or released. With a different design, beautiful artwork, and a low print run, Skyridge is a very valuable and popular set to collect. So let's take a look at the Top 5 Most Valuable Holo Cards from the Pokemon Skyridge Set. 
5. Celebi
A Secret Rare, with beautiful flying colors and a PSA 10 pop count of 178, Celebi hits our list at number 5. Celebi was introduced in the Neo Revelations set, a few years prior to the Skyridge release. Now, prices for Pokemon cards can be all over the map depending on condition, but according to Ludex the raw version of Celebi goes for around $350. When it comes to a PSA 10, a Celebi usually sells for anywhere between $2,100 – $2,800.
4. Gengar
Coming in at number 4 is one of the most popular and beloved Pokemon ever, Gengar. Gengar has been a global sensation with his ghostly and mischievous ways ever since his first appearance on the Pokemon TV show. Throughout the years Gengar cards have featured some of the best and even controversial artwork, meaning Gengar's cards are very collectible, no matter the set. In Skyridge, the Gengar Holo Rare card (raw) can sell anywhere from $300 all the way up to almost $600 depending on the condition. With that being said, if the card is a GEM MINT PSA 10, on average it sells for $3,750 and can get up to $4,600. A Skyridge Gengar PSA 10 has a very low pop count of just 75, which just helps Gengar's legacy blossom. 
*Now before we get into numbers 3 and 2, these two cards can be very interchangeable when it comes to where they fall in the standings. The reason behind that is that sales for raw and graded versions of these cards are all over the map. Anyways, let's get into it! 

3. Ho-Oh
Coming in at number 3 is Ho-Oh secret rare, truly a majestic work of art. With a PSA 10 pop count of less than 100 (97), this has to be one of the most sought-after Pokemon cards in general. This is actually the most valuable Ho-Oh card of all time, YET it comes in at number 3 on our list, just showing you how powerful the Skyridge set is. The raw version of this card can sell anywhere from $375 to $500. But the PSA 10 version of this card actually sells (on average $5,100) for more than #2 on our list…that is why 2 and 3 can be so interchangeable. 
2. Umbreon
Is anyone surprised by this? Umbreon seems to always be in the Top 5 of most valuable lists. Making its appearance in Neo Discovery, with its famous nocturnal artwork, Umbreon has been a chase card since day one. The raw version of this Umbreon card can sell from anywhere between $420-$750 depending on the condition. This card in a GEM MINT PSA 10 will sell for around $4,000-$4,500. We mentioned earlier, the PSA 10 version of this card does sell less than the Ho-Oh (#2 on our list) and that could be because the pop count is higher (109), meaning the PSA 10 Umbreon is a little more attainable than the PSA 10 Ho-Oh. 
1. Charizard
With all that being said, there is only one card that holds the top spot as the most valuable holo card of the set and that is…drum roll, please…Charizard. As one of, if not, the most popular Pokemon character EVER, Charizard has topped almost every list of Pokemon cards since the very beginning. The holographic version of Charizard can sell anywhere from $700-$1200k raw, depending on condition. AND even though the pop count on the PSA 10 is high (226), PSA 10s of the holographic Charizard sell for an average of $11k, Skyridge is no joke. 
Now before we let you go, we are going to drop another fun fact on you. The Skyridge set was actually the last time we saw a Kadabra card, due to a lawsuit created by an illusionist. Giving Pokemon fans another reason to collect Skyridge. The good news is that Kadabra will be back in the Summer of 2023 because the lawsuit has been upheld, so we will see brand new Kabadra cards in no time! 
---
Want more Ludex content?
Sign up for the LUDEX Newsletter to recieve the lastest posts right to your inbox!